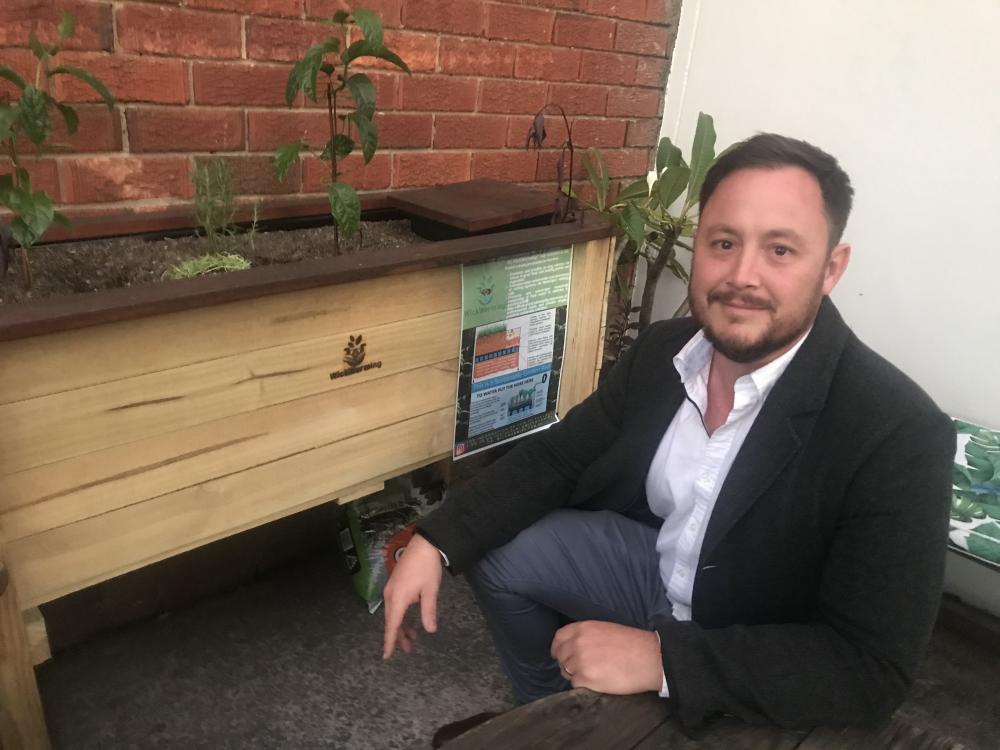 An Interview with Olly White the founder of WickWorming Sustainable Planter Boxes
Today I had the pleasure of interviewing Olly at the newly opened Bucketty's Brewery in Brookvale and what a cool place that is with a fabulous back story.
If you are in the area it is a must and not only for the beer.
Bucketty's Brewery was the one of the first Northern Beaches businesses to acquire a WickWorming Sustainable Planter Box and what is more they have just planted some passion fruit plants in it with the aim of trialling a new beer for summer!
Seeing the WickWorming planter box in the flesh as it were enables you to fully appreciate both Olly's clever innovation with the planter box hitting 3 sustainability goals and also seeing how well-crafted and made the box is. This planter box looks awesome and is sturdy and designed to last.
This planter box
is self-watering and water saving,
contains an inground worm farm, and,
enables households to compost even if they don't have a backyard.
So how did Olly come up with this fabulous innovation, particularly when he is working full time and he and his wife Sarah have just welcomed their first son, young Harvey to the world?
Coming up with the Idea
It all started in the sustainable garden at St Luke's Grammar in Dee Why where Olly is a Geography and History teacher.
He was recently appointed the role Leader of Sustainability Initiatives by the school's new Principal, Geoff Lancaster, who clearly possesses great vision and foresight.
As part of his work in this role Olly invited Ian Collins who is the CEO and Founder of WaterUps to the school to help create some garden beds and teach the students about wicking cells and water conservation. Meeting Ian gave Olly the inspiration.
Olly thought it would be great to create a sustainable planter box for balconies and small spaces so people living in apartments can grow their own food, compost, conserve water and have their own worm farm. Being a Geography teacher and teaching students about the importance of using the worlds resources sustainably also fed into Olly's inspiration to create the planter box.
He started by making one of the sustainable planter boxes for his own deck and then thought that given, "sustainability is such a hot topic and key focus area in Australia and the world right now" that others would also love the opportunity to own their own planter box and thereby WickWorming was created.
How did you come to think of crowdfunding?
Well, it was again down to the Principal at St Luke's Grammar. Olly wanted his Principal to hear about WickWorming from him first hand, so he told him that he had made his own sustainable planter and was now thinking of making them for others and starting an entrepreneurial side-line.
Olly's Principal could not have been more supportive and asked Olly if he had looked at FlowHive and their crowdfunding campaign. When Olly looked it up he came across Jill, the CEO of ReadyFundGo, interviewing Cedar Anderson one of the FlowHive founders.
For those of you who don't know FlowHive is still one of the world's most successful crowdfunding campaigns. Cedar and his father Stuart from Byron Bay raised over $16 million from the pre-sale of their innovative design of hives – deemed to be the biggest innovation in bee keeping in 150 years.
What skills from teaching have you applied to your start-up?
Being a teacher, you have to juggle – you might have 7 classes of 30 kids to manage. Starting a business is similar with the need to constantly juggle many moving parts.
The day I met Olly; he had just had to demonstrate his new planter to fifty two 8 year olds. At this point Olly recognised a second skill required – the need to be able to articulate your message in a simple, clear and concise form.
Why did you choose ReadyFundGo for your campaign?
Olly explained that,
"ReadyFundgo has a focus on sustainability which lined up with my vision."
So far for Olly working on his new venture and following his passion "not one moment has felt like work".
Is there anything you wish you had known about crowdfunding before you started ?
"In hindsight, I would have spent more time creating a following in advance of launching but instead I jumped straight in and am now working on trying to build momentum".
What is your next challenge ?
Many people from outside the Northern Beaches and Lower North Shore area are starting to ask about the planters and how they can get one.
At the moment, WickWorming are taking orders with delivery included in the Northern Beaches and Lower North Shore areas or if people have their own vans or means of transport they can pick up the planters but there is not an arranged option for shipping at this point.
How can you help?
If you would like to help please get on board and support Olly's campaign, you can buy a planter or a ticket to go into the draw to win one. Check out the campaign page or mention it to your local café or restaurant in the Northern Beaches and lower North Shore or to any other business or to friends living in an apartment or with a small garden whom you think would like one.
Some businesses based in the Northern Beaches and Lower North Shore areas are starting to hear about the WickWorming planters.
As we mentioned Bucketty's are growing passion fruit in their planter to test a new beer. The Herbadashery, a herbalist in Manly, has just had their planter installed, as well as, Pure Wholefoods.
Thanks for reading and being part of our community working for a better, more sustainable Australia.
If you live in the Northern Beaches or Lower North Shore and would like your very own planters check out Olly's campaign page. If you are not able to collect your planter or qualify for delivery you can still jump on board and support the campaign from $5.
Thank you for helping make Olly's project a success.