Equity Crowdfunding is back ….
On 24 November 2016 the Australian government introduced a new bill to put Equity Crowdfunding back on the agenda.
Equity Crowdfunding enables companies to raise funds through selling shares to a large range of investors through an online portal.
Back in October 2015, the then new Turnbull Government ear-marked the development of a crowdsourced equity funding market as an "urgent priority" and draft regulation was introduced. However, the initial Bill lapsed in December 2015 after concerns that stakeholder issues had not been addressed.
The amended crowd-sourced funding Bill looks to expand the company eligibility criteria enabling unlisted public companies with up to AU$25 million in gross assets and annual turnover of less than AU25$ million in to use Equity Crowdfunding to raise capital. Retail investors will be able to invest AU$10,000 per company per year.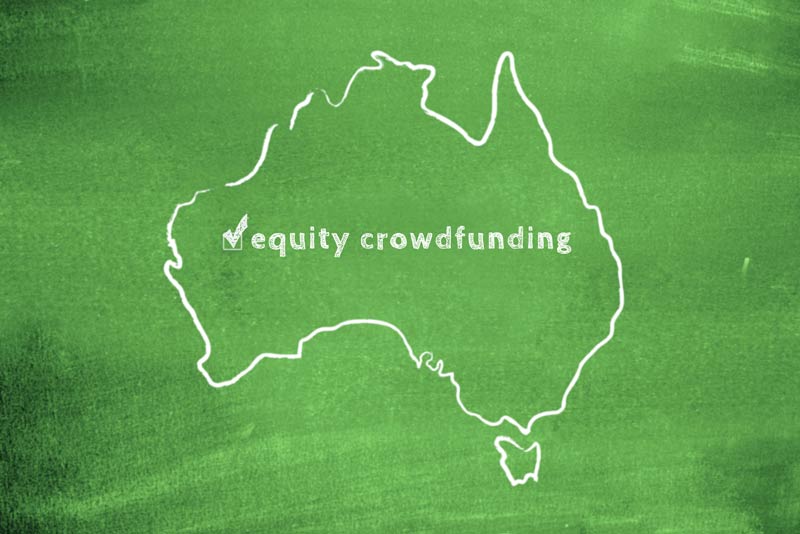 Waiting for legislation….
Entrepreneurs and small-medium sized businesses all over Australia will be well aware that there has been much talk of making it easier to access capital for growth.
Indeed, some have been waiting since the debate first started in Australia back in August 2012.  During this time legislation has been introduced in New Zealand and the USA.
The new Equity Crowdfunding legislation is due to come into effect six months after the Bill receives Royal Assent.
Who will benefit from Equity Crowdfunding?
Whist the new proposals are being hailed by some as a substantial step forward in making Australia competitive and supporting entrepreneurship and small businesses, it will be interesting to see how many companies benefit from the proposals in their current form.
By far the majority of Australian companies are privately held. In order to take advantage of the Equity Crowdfunding opportunity they will need to become public companies. Although there are some exemptions from corporate governance and reporting requirements for a limited period for small businesses that convert in order to utilise the Equity Crowdfunding legislation, the added costs and complexities associated with being a public company will require serious consideration.
Checkout reward-based crowdfunding first…
If you are an entrepreneur and have a small business in Australia that you are looking to grow, you should consider reward-based crowdfunding first. It is growing in popularity in Australia. Entrepreneurs and business owners in Australia are also starting to see the benefits of how they can utilise reward based crowdfunding to start and grow their businesses.
Reward-based Crowdfunding involves funding your business via raising money from a large number of people ("the crowd") in return for a type of reward. This is opposed to an equity stake in your business. The reward could be anything from the pre-sale of a product to an experience to your name being recognised on a company's website.
At the annual Crowd-Funding Institute of Australia (CFIA) conference in December, I had the pleasure of talking about the power of reward based crowdfunding.
As the CEO of ReadyFundGo, Australia's crowdfunding platform for start-ups, innovators and growing businesses I am in the privileged position of meeting and talking to many people who are starting up new enterprises or are trying to take their business to the next level.
For most people, raising funds is one of their 3 core priorities. When we look at the business stats for Australia we can see why.
How many businesses or entrepreneurs need help?
According to Government statistics released in September 2016 there were around 2.1 million small businesses operating in Australia during 2014-2015 (a small business being defined as one employing less than 20 people).
In this same 2014-2015 period 280,000 new businesses were created and 258,000 businesses closed or de-registered.
Businesses fail for many reasons ranging from the quality of the idea or product to the poor implementation of the business plan. In the majority of cases cash-flow is the cause of failure which reportedly typically leads to around 50% of business closures in the first 12-24 months of trading.
The period between the initial start-up phase of relying on savings and funds from friends and family ("F&F") and starting to generate revenue is often referred to at the "Valley of Death" for start-ups. How do they bridge the gap and survive through this period?
Reward based crowdfunding is bridging the gap
Start-up entrepreneurs and those from early stage ventures contact us at ReadyFundGo brimming with enthusiasm, but all of them know given the failure rates of business start-ups that they are really taking a leap of faith into the unknown.
Even before the Global Financial Crisis ("GFC") obtaining a bank loan for a business was not easy. After F&F, the next option has typically been business angels where there is a lot of completion for a limit supply of funds.
Now this gap can be filled for many businesses via reward based crowdfunding.
Businesses using reward based crowdfunding 
To see how businesses are using reward based crowdfunding it is good to start by looking at a few real live examples as they often spark ideas for other business owners.
1. Aussie Food to You: Raising awareness, creating a customer base and raising funds too
Peter Askew, a Canberra based business man with an ambitious goal to disrupt the food supply chain in Australia is looking to create a digital market place for farmers.
Peter and his team have created a crowdfunding campaign for their new venture, Aussie Food to You, to help them raise awareness, build engagement and grow their customer base. It also will provide funds so they can develop an app and a distribution network.
Aussie Food to You will enable consumers to have premium Australian meats delivered directly to their door-steps from local farmers. Consumers will know where their meat is sourced from and have the convenience of home delivery. At the same time they will helping support local farmers take back some of the control of the value chain.
Aussie Food to You offers rewards of vouchers to purchase meat on the app once it is developed or the direct selection of meat packs delivered to your door step.
2. Urban Xtreme: Showing investors there is a market
 Indoor adventure ski-centre, Brisbane 
Urban Xtreme is the brainchild of Lindsay Davis and Darren Montgomery. As adventure sports fans they think it would be amazing if you could ski, snowboard, bounce and climb under one roof all year round in Brisbane.
Their dream creation is expected to open for business in June 2017. Seven months prior to this they started a reward based crowdfunding campaign to gain interest in their venture and use this to demonstrate market validation to their investors. The AU$75,000 they are looking to raise will be used to help towards the set-up costs in particular securing premises.
In return for support pledgers to their campaign will be able to choose between ski and snow board lessons or adventure passes at a 30% discount.
3.  Bredbo Black Garlic: Growing an existing business
A great example of a crowdfunding campaign by an existing business looking to grow has been launched by John Pye, an organic garlic farmer from NSW.
5 years ago John started on the fermentation process to make black garlic and has been producing his delicious Bredbo Black Garlic in his home made fermenters. This new delicacy has taken the gourmet chef world by storm. John is not able to supply enough to meet his current demand.
John has turned to reward based crowdfunding to fund the purchase of a new fermenter. He is looking to raise AU$6,000 and is offering a variety of rewards ranging from a black garlic recipe book, to gourmet packs with black garlic products, to a personalised tour with 4 friends to the farm to see where the garlic is grown and taste some of the new products.
Visit John's campaign to get your black garlic in time to marinade your favourite meat for your Australia Day barbecue!
Crowdfunding Plus – the many benefits of reward based crowdfunding 
The examples above should give start-ups, growing businesses, innovators and entrepreneurs some ideas of how they can use reward based crowdfunding to help grow their businesses.
As well as being able to help with funding it can be seen that reward based crowdfunding has many other benefits for both start-ups and growing businesses. These include:
access to funds
proof of concept
market validation
a forum to tell your story and get your message out to your audience
building your customer base
obtaining loyal customers
no need to give away equity and create dilution
There is no need to wait on giving it a try. Get started with reward based crowdfunding right here.