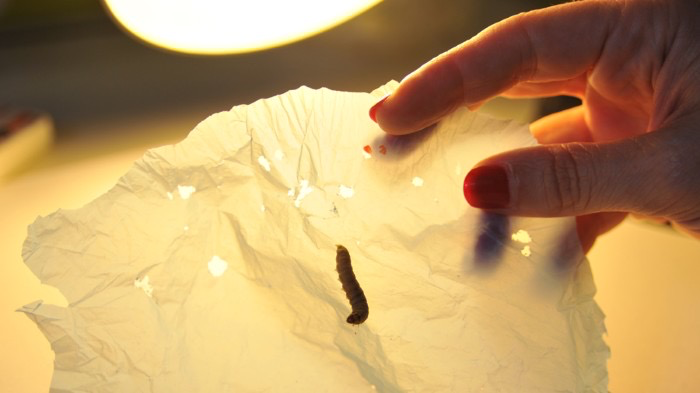 By Jelena Smiljanic
Crowdfunding has the ability to bring a vast variety of projects to life that can help solve the problem of plastic waste in our oceans.
At ReadyFundGo we have crowdfunded the purchase of a machine by a Melbourne based start-up to make edible coffee cups and are ready to assist scientists and researchers looking at nature based solutions.
Following metabolic pathways of animals capable of digesting wax in nature, scientists found the closest species with the ability to break down plastic materials. This could be a natural solution for a major problem of plastic waste in our environment.
One of these animals is G. mellonella. Its larvae parasites honeybees and intrudes space within the hive laying eggs in the cracks. Later, larvae feed on the wax comb and other materials like pollen, propolis, and honey.
Finding that this creature ingests wax and metabolizes it to simpler products was the first clue to discovering possibilities of cleaning up our greatest pollutant – plastic.
How can a caterpillar break down such difficult material is yet to be investigated in detail. Certain is that they can digest polyethylene and knowing this was a great headstart for further research.
Now we have hope in solving the problem of the world's plastic waste by using existing creatures.
In nature, everything stays in balance. For honeybees, wax caterpillar-like G. mellonella is a major treat. This is why a controlled population of both groups is necessary.
Till now, we only knew that wax caterpillars caused the natural loss (and economic) of honeybees, and therefore treated them as pests. Today, with the emergence of this new fact – their ability to break down plastic makes them a valuable organism.
"In laboratory experiments with G. mellonella caterpillars, about 100 caterpillars consumed 92 milligrams of a polyethylene-plastic shopping bag over the course of 12 hours. (1)
While it is clear that the caterpillars are consuming the plastic, more research needs to be done to determine if this chemistry is the result of G. mellonella or its gut flora.
The moth's larvae break down polyethylene to ethylene glycol and a mass loss of 13% polyethylene over 14 hours has been documented in polyethylene films.(2,3)
Besides wax caterpillars, other species are identified as being capable of digesting plastic.
"Another closely related species of waxworm, Plodia interpunctella, has been the subject of research which isolated two strains of bacteria from its gut, the Enterobacter asburiae and Bacillus species which have been demonstrated as capable of growing on and decomposing polyethylene plastic in a laboratory setting."(4)
To bring these solutions to the light of the day is not an easy path.
Together, with the benefits of crowdfunding on an environmental platform like Readyfundgo, natural solutions could be developed and researched to help us cure our beautiful and only home, planet Earth.
If you have an idea to help create a better environment and need to raise funds for research or to get your product to market, check with our team to see if crowdfunding is a solution for you.
For those who know that crowdfunding will help, start your campaign today here.
About the author
Jelena Smiljanic
Jelena is a Scientific writer with a focus on Environmental issues. She holds a Master degree in Molecular biology and Genetics with specialization in Human genome. Living between Europe, China and Australia, Jelena collected broad experience about nature and human diversity. 
References:
1. "Could These Tiny Plastic-Eating Caterpillars Hold The Answer To Our Trash Problem? – Hydration Anywhere". hydrationanywhere.com. Retrieved 2017-04-25.2. Bombelli, Paolo; Howe, Christopher J.; Bertocchini, Federica (2017-04-24). https://www.sciencedirect.com/science/article/pii/S0960982217302312
2. "Polyethylene bio-degradation by caterpillars of the wax moth Galleria mellonella". Current Biology. 27 (8): R292–R293. doi:10.1016/j.cub.2017.02.060. hdl:10261/164618. ISSN 0960-9822. PMID 28441558.3. Khan, Amina (April 24, 2017).
3. "Stubborn plastic may have finally met its match: the hungry wax worm". Los Angeles Times. Retrieved April 25, 2017.4. Yang, Jun; Yang, Yu; Wu, Wei-Min; Zhao, Jiao; Jiang, Lei (2014-12-02).
4. "Evidence of Polyethylene Biodegradation by Bacterial Strains from the Guts of Plastic-Eating Waxworms". Environmental Science & Technology. 48 (23): 13776–13784. doi:10.1021/es504038a. ISSN 0013-936X. PMID 25384056.