Good-Edi the only takeaway cup you can eat
A year ago, we looked at how crowdfunding was helping reduce single use plastics with some examples of great ideas that had been crowdfunded to help reduce the plastic in our oceans and landfill.
But we have now found our new favourite idea which has been developed by two amazing ladies from Melbourne. The one that literally makes the biscuit!
Catherine and Aniyo have been working very hard during their time in lock-down to create a campaign to help get their business Good-Edi off the ground.
We know the problem
Every day in Australia we are disposing of 2.7 million coffee cups. That's close to 1 billion cups per year.
One billion coffee cups would stretch 120,000 km or 3 times around the world!
We cannot recycle paper coffee cups because they are lined with plastic and they are not biodegradable .
90% of these cups or 2.4 million of them go to landfill every day
They create 60 tonnes of plastic waste per year in Australia, causing a huge amount of carbon emissions and water pollution.
We all love our coffee; indeed, Australia is regarded by many as being best in the world at coffee.
What if we became best in the world at coffee cups too?
Well thanks to Catherine and Aniyo we just might.
Good-Edi : the Perfect Solution
The dynamic duo have come up with the perfect solution – an edible wafer coffee cup that is fully biodegradable.
The wafer cups stay crispy and don't change the flavour of your coffee.
When you finish your coffee you can eat your cup – it is a healthy snack.
You don't need to worry if you throw your cup in the bin – it will break down naturally without any composting equipment in less than two weeks – quicker than a banana skin.
The difference we can make by using Catherine and Aniyo's unique Good-Edi cups is astronomical – an edible coffee cup that is fully biodegradable, something that is not readily available in the Australian market to date.
We'll avoid waste, use less plastic, reduce carbon emissions, cut down fewer trees and what is more it is tasty and healthy too!
Catherine and Aniyo have worked very hard to develop their cup and have been selected as one of only 5 teams to take part in the inaugural running of the Taronga Zoo Conservation Society accelerator program, HATCH, for brilliant ideas that have a positive impact on the environment.
They want Good Edi to manufacture the edible cups in Australia and are looking to use crowdfunding to help raise the funds to buy their first machine to start production in Melbourne.
It is easy for you to make a difference
You can help make a difference and be part of the solution to the Australian 2.4 million cup a day problem.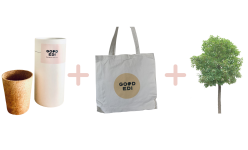 If you are an individual who likes coffee, treat yourself to the Good-Edi Gift Bundle – get some cups to try at home, a Good-Edi tote bag, your name on the factory wall and a tree planted. Please share this campaign with your friends and help bring Good-Edi to life.
We are looking for big businesses who are interested in making a difference who can commit to purchasing cups in advance to help sponsor this amazing project.
If you are keen to be a leader in sustainability and delight your employees please e mail us at info@readyfundgo.com to find out how you can help.
ReadyFundGo is an online platform that brings together innovators and people who are passionate about making a difference.
Bring your ideas and your passion for a sustainable Australia to the ReadyFundGo community today and see how crowdfunding can make your dream become a reality.
If you have a great idea, start your campaign today. You can create your campaign page, gain followers and supporters, make your team and start raising funds. https://readyfundgo.com/start/
Crowdfunding a sustainable future